Geothermal Heat Pump - Here's How to Heat and Cool Your Property as Efficiently as Possible... Using the Earth's Groundwater!
Discover How You Can Stay Comfortable While Slashing Your Operating Costs with the Most Efficient Geothermal Heating and Air Conditioning System in the Industry
How would you like to keep your home or commercial property at the perfect temperature all year long... all while cutting your heating, cooling, and hot water costs up to a whopping 80%?
And what if you could also reduce wasted energy and toxic exhaust emissions... just by utilizing the Earth's most abundant, natural, and pure resource to heat and cool your home?
What you're about to discover will reinvent everything you thought you knew about efficient heating and air conditioning systems... because now you can heat and cool your property with the most efficient system in the industry – one that is up to 6x more efficient than your existing system!
This Is Your Invitation to Invest in a Geothermal Heat Pump System That Will Deliver Immediate Savings
Geothermal heat pump systems, which are also called...
Ground source heat pumps
Water source heat pumps
Geothermal heating
Geothermal heating and cooling
Provide the most efficient heating and cooling available. They are 50-70% more efficient than average heating systems and 30-60% more efficient than your typical air conditioner. Because these systems have such incredible fuel efficiency, you'll save BIG on your monthly energy bills.
Unlike other energy-efficient options, geothermal heat pumps provide a nice ROI very quickly due to their ultra low energy consumption that is unrivaled in the industry.
With a State-of-the-Art Geothermal Heating and Cooling System, You'll Enjoy...
Extremely quiet operation: Never worry about being disturbed by a noisy heat pump or air conditioner. There is no outdoor unit with geothermal systems, which operate about as quietly as a refrigerator. Plus, because they're placed indoors, there is less wear and tear on the equipment.
Clean and safe comfort: Geothermal units don't require energy-wasting combustion to heat and cool, so there is no risk of carbon monoxide poisoning. They draw from pure and simple groundwater. And they come with the option of a high-efficiency air cleaner to improve indoor air quality.
Long-lasting equipment: Typical A/C units last 8-12 years with proper maintenance; however, geothermal units usually last 15+ years. In addition, the system's ground loop has a 50-year warranty.
Positive ROI from day 1: Geothermal systems are a smart investment in your comfort due to the massive energy savings you'll experience from day 1. This immediate and ongoing savings quickly offsets the initial cost of installation.
Decreased environmental impact: According to the EPA and the U.S. Department of Energy, geothermal systems are the most environmentally friendly heating and cooling options on the market. They reduce your energy footprint thanks to low electricity demand and don't emit pollutants like carbon dioxide, carbon monoxide, or other harmful greenhouse gases.
PLUS: You'll be able to...
Recoup Your Investment Even Faster with a 30% Tax Credit!
Make a Smart Investment in Your Comfort... and Protect the Environment... with a New Geothermal System of Your Own.
If you'd like to get the most efficient heating and cooling system on the market... so you can reduce your energy footprint and save big on your monthly utility bills...
... Then don't waste another minute running your old heating and air conditioning system!
Call our friendly and professional heating and cooling experts or simply fill out the form above to learn more about our high-efficiency geothermal heat pumps today. We'll help you choose the best system for your lifestyle and budget so you can optimize your comfort and savings while doing your part to help the environment.
Start heating and cooling your home . Take advantage of the 30% tax credit available on any geothermal system today!
Get Honest, Quality Work Done Right without Draining Your Savings When You Call Royal Comfort Heating & Air
First of all, standard heating and cooling systems adjust the comfort level of your home by drawing from the surrounding air. The problem with this is that the air temperature fluctuates greatly, making it difficult to heat or cool very efficiently.
Geothermal systems pull from the surprisingly stable temperatures below the Earth's surface. You see, the ground absorbs and stores about 1/2 of the sun's energy each day. This keeps temperatures underground moderate and consistent year-round.
A geothermal system takes advantage of the stable temps underground by using a piping system known as a "loop." This loop contains water that circulates underground and delivers heat to your home directly from the Earth at a high level of efficiency so you stay comfortable more easily and affordably.
Here's How Geothermal Heating and Cooling Works: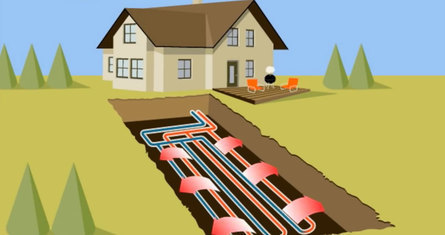 As an extra incentive to upgrade to a geothermal heating and cooling system, home and commercial building owners who install a geothermal system are eligible for a tax credit through the Energy Improvement and Extension Act of 2008 (H.R. 1424).
According to this act, homeowners get a one-time 30% tax credit with no maximum of their total investment in a residential geothermal heat pump. In addition, commercial building owners can get a 10% tax credit for a geothermal system installation.
With this generous tax credit combined with energy savings of up to 70%, you can expect to recoup your costs in 3-8 years.
ROYAL COMFORT HEATING & AIR SERVES LAFAYETTE, WEST LAFAYETTE, MONTICELLO, FRANKFORT, ROSSVILLE, BATTLEGROUND, & DELPHI INDIANA​